DYNES TRANSPORT
Paperless approach to innovative logistics
CHALLENGE
Dynes Transport needed new financial management and better job visibility, and was spending too much time handling thousands of paper invoices every month.
SOLUTION
Greentree eDocs eliminates manual processing of invoices, which are loaded seamlessly into its integrated financial and job costing modules, while Workflow provides live transparency.
RESULTS
Hours of time are saved through electronic scraping of invoices, management has a clear view of performance, and everyone else has the work flow view they need to work smarter.
DYNES TRANSPORT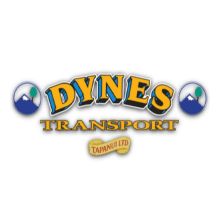 Dynes Transport has a technological edge, made even sharper by Greentree's champion time-saver, eDocs.
THE FULL STORY
When your job is moving large quantities of export products, naturally you must be reliable, but when it comes to gaining that competitive edge, you need to be innovative as well.
The Dynes Transport Group's fleet of over 150 trucks shifts hundreds of millions of litres of milk and hundreds of thousands of tonnes of logs every year.
"We're always busy," says IT Manager, Peter Chamberlain. "Innovation is definitely top of the list in making us stand out – providing solutions that work for our customers.
A BUSINESS TECH BUILDER
Dynes Transport Tapanui Ltd is the hub of a business that incorporates several other companies specialising in transport and logistics for the dairy and logging industries in the South Island of New Zealand. A key factor in its success has been software applications built by its IT specialists that perform tasks such as vehicle dispatch and tracking, documenting cleaning and hygiene processes for milk tankers, and recording incidents for its ongoing focus on Health & Safety.
"We've developed our own robust business apps, but we realised that even with bolted add-ons our Sage Accpac financial management system was dated in terms of its ability to handle the growing volume of email and bank payments," Peter says. "We were also swamped with paper documents."
eDOCS A REAL EYE-OPENER
Peter had encountered Greentree in a previous role with a business software vendor. "I'd always been impressed with Greentree's functionality, but it was eDocs that really opened my eyes," he says.
With offices spread across the central and lower South Island, Dynes was dealing with far too much paperwork. Emails in their hundreds had to be printed, signed, and then delivered by courier for manual processing into the accounting system. Management felt it was losing touch with aspects of the business because there just wasn't the time to look through large paper files of invoices. eDocs has changed all that.
"In our first year of using eDocs' scraping function we got through some 20,000 invoices – that's paper we no longer have to deal with," Peter enthuses. "Now all the invoices come to one email address, they are scraped, loaded into Greentree and sent to the right person to authorise them.
"We can now show our CEO the invoices he needs to see and be confident that the other ones are being dealt with by the appropriate people. Without a doubt, eDocs has been a very good system for us – saving time and energy and giving us better quality control."
TECHNOLOGICAL PARTNERSHIP
In consultation with Dynes, Verde developed another innovation, simplifying the delivery of supporting documents for invoices. For instance, the Dynes Group includes a wholly-owned workshop company that services trucks for other companies in the group, which are billed for that work. When a truck is serviced, a simple tick box in Greentree Job Costing attaches all the related cost invoices for that service, which are then delivered via eDocs to the appropriate recipients.
"Previously we'd have to scan all the invoices, collect all the PDFs, then attach them to an email before sending it out," Peter explains. "Because we send out hundreds of invoices every week, a lot of time was spent photocopying and scanning, and the chance of an error was higher with all that manual processing. "Now a 'customer' gets all the detail in a transparent and seamless fashion."
"We're really pleased to have automated a complicated invoicing requirement, which has saved Dynes a
huge amount of time," says Craig Anderson, Senior Consultant for Verde. "It's an application that we believe other businesses with similar requirements will want to use."
FORWARD WITH CONFIDENCE
Greentree has been rolled out progressively across Dynes' various companies, with Workflow's configurable desktops offering everyone that common integrated functionality in a view tailored to their own particular job. Peter praises its user-friendliness.
"Approvals & Alerts has given us the flexibility to put rules in place to fit all requirements," he says. "People are better informed about what's going on in the system without having to do any extra work and with eDocs eliminating all that manual processing, they're spending more time on value-added work.
ABOUT DYNES TRANSPORT
The Wilcox Group of Companies is involved with growing, packing and distributing fresh produce throughout New Zealand with facilities at Pukekohe, Ohakune, Levin and the Waikato in the North Island, and Rakaia in the South Island. Companies within the group are privately owned by the Wilcox family, who have been associated with vegetable growing since the early 1930s. They manage a production base of 2,500 acres with 110 permanent staff.Their large growing and packing capacity and specialised marketing skills mean Wilcox can deliver and maintain a guaranteed sustainable supply to retail sectors throughout New Zealand and sustain a significant export demand.
For more information visit A.S. Wilcox
Dynes Transport is a major South Island transport company providing a broad range of transport services to customers in the forestry and dairy industries.
For more information visit www.dynes.co.nz