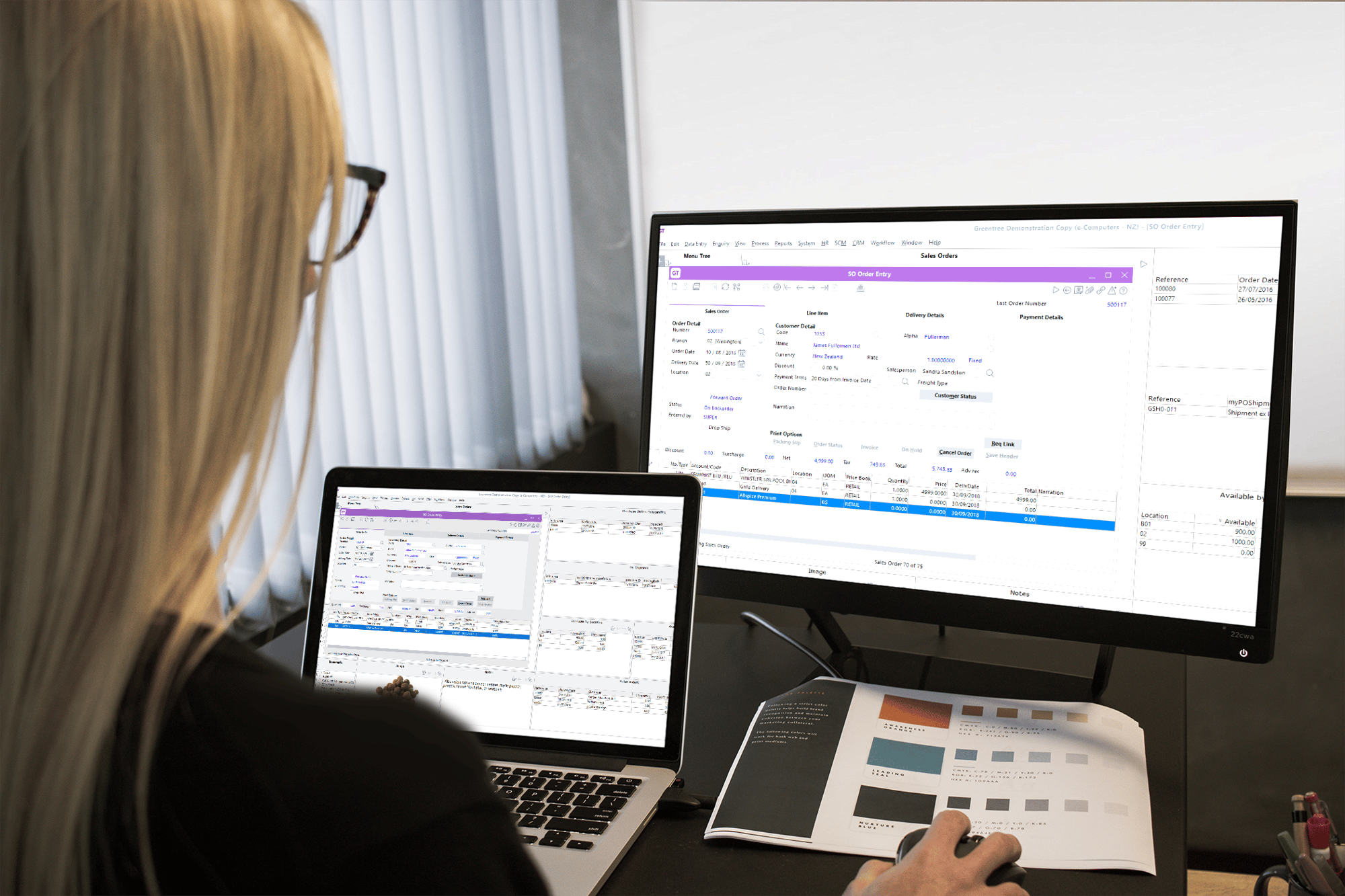 MYOB GREENTREE
Powerful, fully integrated ERP software that customises to your needs.
Verde is a Platinum MYOB Greentree Partner
Big businesses need powerful software. MYOB Greentree is an ERP for companies that want to think smarter, perform better and stay ahead.
Responsive and flexible, MYOB Greentree provides you with a wide variety of modules and sub-modules rarely found in other packages. You switch on the pieces you need, effectively matching the system to fit your business. As your business evolves, MYOB Greentree grows with you.
Exploit its accuracy in business metrics; challenge its capability to deliver insightful information. MYOB Greentree eradicates long, complicated tasks and effortlessly manages change, to help grow business potential. Whatever the need, MYOB Greentree gives you choices that are cost-effective and proven. Thousands of companies, large and small, have at their fingertips MYOB Greentree's simple, smart thinking that empowers better decisions, better prospects.
Access our MYOB Greentree Releases and Upgrade page for more information about the latest Greentree upgrades.
UNIFIED SOLUTION
Create an organisation that works together by removing islands of automation and reports that don't match. This fully integrated, unified solution allows different departments' systems to talk to, and understand, each other.
DEEPER INSIGHTS, BETTER PERFORMANCE
MYOB Greentree ERP's functionality has enormous depth and breadth across operations. Yet it'll simplify information, so you can delve deeper. You'll gain insights that empower better business decisions, driving efficiency and profit.
POWERFUL, FLEXIBLE & SCALABLE
MYOB Greentree's functionality flexes to suit your business. Pick and choose from 80-plus modules, customising the solution to organisational requirements. Match the system to your business as it evolves.
WORK SMARTER
Ensure teams have the right information and remove inefficiencies by streamlining operations. With tools such as business process management, workflows, approvals & alerts, you'll improve productivity, performance and profit.
See what MYOB Greentree can do for your business
ALL YOUR BUSINESS IN ONE SOLUTION
For enterprises that want to think smarter, perform better and stay ahead, MYOB Greentree provides a real-time view across departments.
Flexible to suit your needs
DEPLOYMENT OPTIONS FOR MYOB GREENTREE
Effective business management has at its core proficient financial management. It's vital to have the right tools to give you accurate, instant, reliable and error-free information to maximise the control you have over your business performance and results.When it comes to deployment, MYOB Greentree offers you more choice so you really can 'work it your way'. Not only choice in how you use our ERP software but how you consume it. On-premise, in the cloud; perpetual licence, subscription or Software-as-a-Service – you get the same powerful, fully configurable, MYOB Greentree ERP software with a whole range of service and upgrade options.
Put simply, one deployment or licensing option isn't better than the others. It's all about which option works best for you. You get the same powerful MYOB Greentree software no matter what you choose. And if your business needs were to alter in the future, how MYOB Greentree is delivered can change with you.
Learn more about your deployment options
One important thing to understand is that you don't require cloud hosting or SaaS to have mobile access to MYOB Greentree. So long as you can log onto the internet, you can access information from your MYOB Greentree system at any time – no matter how it's deployed.
MYOB Greentree as a Service
All-in-one monthly subscription: No IT infrastructure required. Fast to implement; a popular choice for companies in rapid growth mode requiring high-performance software with minimal capital outlay.
MYOB Greentree On-Premise
Traditionally the most popular option for mid-tier organisations. Host on a physical server on your premises, or somewhere else. A high-performance ERP solution that's a joy for your team to manage and use.
Cloud Hosting
Host MYOB Greentree in the Cloud your way or choose a Cloud infrastructure specialist.